Door Replacement in Deerfield, Illinois
Is it time to update the doors in your home in Deerfield, Illinois? Are you preparing you home for sale? In either case, a calling a contractor to replace your Deerfield doors will add beauty and life to your home without breaking the budget! Offering a wide variety of styles and colors to choose from, Custom Built Windows Inc realizes that selecting the perfect door can be challenging. Our professional door installers are here to assist you every step of the way, from listening to your thoughts, to helping you select the best options, to measuring accurately and installing seamlessly, Custom Built Windows Inc will make your job effortless!
---
Call for a FREE Quote
---
Professional Deerfield Door Replacements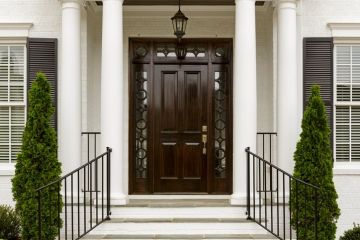 With over 83 years of door replacement experience, Custom Built Windows Inc employs care and expert craftsmanship to every door replacement job in Deerfield. No matter the size or scope of your job, you will receive a professional door replacement technician who will get the job right, to your satisfaction.
Custom Built Windows Inc offers a wide variety of exterior and interior replacement doors to choose from. With over 83 years of service for replacing doors in Deerfield, you can rest assured that the job will be completed to your highest level of satisfaction. Our door replacement technicians will be happy to assist you in choosing doors with colors to match your exterior or interior paint, or doors that add a decorative flair with glass or hardware.
Benefits to replacing your Deerfield doors include:
Improve your home's security
Increase durability
Enhance your home's curb appeal
Increase your home's value
Decrease energy costs
Replace Your Deerfield Doors
Serving all of your Deerfield door replacement needs since 1940, all doors by Custom Built Windows Inc are made with the highest quality materials to suite your style and budget. Our premium Deerfield door replacement specialists offer:
Exterior door replacement
Interior door replacement
Door guards
Specialty doors
Commercial doors
French doors
Entrance doors
Sliding glass doors
---
Call for FREE Door Replacement Quote
---
WHAT CUSTOMERS ARE SAYING:
5★★★★★ - "My wife and I searched very long time for the right installer and ended up choosing Custom Built Windows. First they were not pushy with their sales and did not require both my wife and I to be present for their presentation. Other companies did this to push you to buy their windows right away. Gary does not, and respected our wishes to allow us time to determine what we wanted. Gary also was great in answering my questions. I called him a lot, he was easy to reach, and willing to answer any of my questions. The price was also very competitive and the windows look great. Finally the installation process was Great! They were on time and punctual for both measuring and installing the windows. During installation they took great care of my house, used dropped clothes throughout and even vacuumed before leaving. My wife was here and very happy with the process. I still have over half of my house to complete and plan on using Custom Built Windows to do so."

Mike R., Window Installation in Deerfield, IL

2019-03-04

5★★★★★ - "Patio, Door, and screen installation. Price beat all the competitors. Quality window, locks, screen, etc. was excellent. The cleanup was exceptional. Couldn't be happier. I would use them again for anything."

Maribeth Vogel in Arlington Heights, IL

2023-11-08

5★★★★★ - "Saw Gary at the Lake Country Home and Garden show. Great conversation and he gave us his full attention and the time we needed to ask questions. Gary came to the house and gave us a demo along with lots of information on replacement windows and a quote, which we accepted on the spot. A great guy to work with. Josh, who did the install, is fantastic. Very professional, great communication, excellent work and CLEAN. I wish yelp allowed for 10 stars, these guys would exceed even that!The entire experience from beginning to end exceeded our expectations. I was ready for the stress others had with their install. NO STRESS. Thanks to everyone at Custom Built Windows!!"

Joe O., Replacement Windows in Palatine, IL

2020-01-09

5★★★★★ - "I put windows, siding and gutters on my house with custom built and I couldn't be happier. All the installers were professional and meticulous. Gary, the owner of CB, called or came by my house every single day to check the job. I highly recommend custom built windows."

Karyn F., Vinyl Siding in Hoffman Estates, IL

2019-10-15

5★★★★★ - "I appreciated the expertise and professionalism of this company. I will be calling them again to replace the rest of the windows in my house."

Tyrah J., Window Installation in Mount Prospect, IL

2019-10-15

5★★★★★ - "The installation crew did a great job installing our windows! I would recommend this company to others!"

Nancy L., Window Installation in Arlington Heights, IL

2019-10-15

5★★★★★ - "All the windows we have replaced; and it?s been quite a few, have been done by Custom Built Windows. Great quality of work, very professional and they pick up after themselves."

Rebecca T., Window Installation in Northbrook, IL

2019-08-19

5★★★★★ - "Custom Built Windows replaced all of our windows, patio door and front door. The product is excellent but the installation and service was even better. All of the installation was very professional. Bob and Team arrived on time, worked diligently and cleaned up all areas. Gary was responsive and fair in discussions and pricing. We could not be happier and would recommend their product and services."

Lauralyn B., Replacement Windows in Palatine, IL

2019-08-19

5★★★★★ - "My husband and I had four window company's come into our home, to demonstrate their products, and give us installation quotes. Everything ran smoothly with Gary, the owner, and Pat the installer, and their timely work caused minimum disruption in our home. I would not think twice about recommending or hiring Custom Built Windows again."

Elizabeth M., Window Installation in Hoffman Estates, IL

2019-06-17

5★★★★★ - "Custom Built Windows replaced my aging and drafty windows with top-of the line windows that keeps the house nice and warm in Winter and cool in Summer. They were quick, professional, and the "fit and finish" of their work was fantastic! I recommended them to family members and they did a superb job for them as well."

Rob W, Window Installation in Palatine, IL

2019-06-17

5★★★★★ - "This company is top-notch! The owner, Gary, is a pleasure to deal with and has exceeded our expectations in providing windows and roofing at three of our homes over the last 15 years. Professional, Honest, and High Quality."

Carey S, Window Installation in Wheeling, IL

2019-06-17

5★★★★★ - "Excellent workmanship, and they were neat, totally cleaned up and out the door on time. The new box kitchen window is fabulous and the precision installation was perfect!"

Sara B., Window Installation in Northbrook, IL

2019-05-16

5★★★★★ - "Great service and product. They left my house spotless after the job. Highly recommend."

Gayle, Gutter Installation in Mount Prospect, IL

2019-05-16

5★★★★★ - "When I decided to replace all windows of a new purchased house, I had no idea what I would get. I just knew in my previous house after I received a class action suit against ***** ****, we called and a ***** contractor quoted me 60k replacement - we did not do it and it turned out there was nothing wrong with our existing windows. Anyway this time I found custom built windows from google search. I read all reviews of the top few choices, and talked to two of them, ( the other is opal) plus one from ****?s. I had to say all three were professionals and we liked all of them so much to the point to divide the job and give all of them something!Of course, finally we settled with Gary and his custom built windows. There were a few reasons, even price wise they were all competitive: while Gary showed me the sunrise windows, opal quoted Anderson 100 series with total reconstruction, *******gave me all fiber glass ***** windows with total construction backed by ?the store is always there? assurance; I went with Gary because his promise of ?his great installation crew taking care of all windows if any wood or trim is bad and wrapping them with aluminum so there will never be problem again?.Now the work is done. I got to see Gary?s crew of Bob & Josh working for 5 days, sometimes in 15 degrees outside, with such a workmanlike no big deal spirit, but more importantly a ? I love what I do and I like my work to be flawless? professionalism. I loved the experience of being side by side with bob and josh. No matter how stupid my questions were Bob was always patiently answering them and he even helped a little while I was installing garage door opener! We are very pleased with the results- not only the windows, but also the installation and the whole experience!Thanks Gary, Bob and Josh!"

Tong Zang, Replacement Windows in Palatine, IL

2019-05-16

5★★★★★ - "Gary is an absolute pleasure to work with. He's responsive and professional every step of the way!"

Diane

2019-04-01

5★★★★★ - "A pleasant experience all around. Beautiful, quality windows installed by respectful, experienced professionals."

David G, Window Installation in Arlington Heights, IL

2019-03-04

5★★★★★ - "If you're looking for a reliable "home town" company, that puts you first, and does what he says he will - LOOK NO MORE!! I can't say enough about our experience w/ Gary at Custom Built Windows. We choose Customer Built because Gary listened from the get go!! We needed to replace 50+ year old, original metal, windows, a large picture window, and a very old large sliding glass door. Knowing nothing about windows, we had several (4) companies, including the big boxes, come out and bid. It was becoming a painful process. I told Gary; when it was his turn, please just get to the point. Just about any window anyone can offer is going to be better than what we had. He listened, was in and out with a quote in my hand in under an hour. Although he didn't come in the absolute lowest, I liked Gary and respected the fact the owner was the sales guy, the windows he quoted were great for our needs, and I felt like I wouldn't get "lost" sticking w/ a locally owned / operated company. I am soooo glad I trusted my instinct. Gary delivered in the timeframe he quoted, and his installers were AWESOME. I will be contacting Gary again SOON as I now see I really do need that new front door to go with my awesome windows!!!"

Barb K, Window Installation in Palatine, IL

2019-03-04

5★★★★★ - "Custom Built Windows replaced my aging and drafty windows with top-of the line windows that keeps the house nice and warm in Winter and cool in Summer. They were quick, professional, and the "fit and finish" of their work was fantastic! I recommended them to family members and they did a superb job for them as well."

Rob W., Window Installation in Abbott Park, IL

2019-02-04

5★★★★★ - "This company is top-notch! The owner, Gary, is a pleasure to deal with and has exceeded our expectations in providing windows and roofing at three of our homes over the last 15 years. Professional, Honest, and High Quality."

Carey Smolensky, Window Installation in Green Oaks, IL

2019-02-04

5★★★★★ - "A year ago I had all of the 1980's windows in my house replaced. Gary was easy to work with. He didnt push the product, but instead listened to what I wanted and gave his professional advice. The whole process was easy and my windows and sliding patio door were installed in a day and a half. My house was so much more comfortable in the winter and summer! And everywhere in between since I could open my nice new windows."

Rebecca J., Window Installation in Prairie View, IL

2019-02-04

5★★★★★ - "See Gary first, then listen to the other companies with high prices, high pressure, smoke & mirrors, and then you'll come back to Gary's company. Don't fall for the high pressure, one-time only "discounts" from those other companies. My windows are great. The price was great. The installation crew was great. Friendly, professional, and cleaned up afterwards."

Tom S., Window Installation in Golf, IL

2019-02-04

5★★★★★ - "I have used Custom Built Windows at three of my homes. At my current home, they installed picture windows, casement windows, and sliding doors with blinds built in between the glass.
In a previous house, they replaced windows and installed a new roof, soffit, fascia, gutters & downspouts. In another previous house, they replaced a variety of windows and doors.
On each occasion, Gary, and his staff were extremely professional, courteous, knowledgeable and very respectful of our property and home. I highly recommend Gary Gillis and Custom Built Windows and look forward to working with them again when the need arises."

Carey S., Window Installation in Lincolnshire, IL

2018-11-12

5★★★★★ - "Our windows look great! Great job by Gary and his team. I plan on using them again in the future and would recommend them to anybody looking for new windows."

Mike M., Window Installation in Arlington Heights, IL

2018-11-12

5★★★★★ - "Gary and his team are the best. He was referred to is by a neighbor and we've now used them for two different jobs. Gary sat with us to explain and show us our options. Pricing was very fair and the quality of the Windows and workmanship was first rate. Excellent communication during the projects and follow up."

Steve A., Window Installation in Chicago, IL

2018-11-12

5★★★★★ - "Very professional from the beginning (consult/sales) through installation. Gary, the owner, does not use pressure sales tactics. Installation was fast with no problems encountered. They (Bob and Jake) ensure a clean install and customer service from them was great as well (ability to answer any questions we had during install without feeling as though we were bothering them). Very professional organization I would recommend to anyone. We already feel the difference in our home--glad we went with the Sunrise windows!"

Sue S., Window Installation in Lake Villa, IL

2018-11-12

5★★★★★ - "If you're looking for a reliable "hometown" company, that puts you first, and does what he says he will - LOOK NO MORE!! I can't say enough about our experience w/ Gary at Custom Built Windows. We choose Customer Built because Gary listened from the get-go!! We needed to replace 50+ year old, original metal, windows, a large picture window, and a very old large sliding glass door. Knowing nothing about windows, we had several (4) companies, including the big boxes, come out and bid. It was becoming a painful process. I told Gary; when it was his turn, please just get to the point. Just about any window, anyone can offer is going to be better than what we had. He listened, was in and out with a quote in my hand in under an hour. Although he didn't come in the absolute lowest, I liked Gary and respected the fact the owner was the sales guy, the windows he quoted were great for our needs, and I felt like I wouldn't get "lost" sticking w/ a locally owned/operated company. I am soooo glad I trusted my instinct. Gary delivered in the timeframe he quoted, and his installers were AWESOME. I will be contacting Gary again SOON as I now see I really do need that new front door to go with my awesome windows!!!"

Barb K., Window Installation in Elk Grove Village, IL

2018-11-12

5★★★★★ - "We bought a door from custom built windows. We love it every time we come down our stairs we see it and love it. Gary and the installation crew are great and easy to deal with and very knowledgeable. I highly recommend the custom built."

Rob R., Door Installation in Mount Prospect, IL

2018-11-12

5★★★★★ - "This is the second time I've used Custom Built Windows. Here's why- On time, a precision team of installers put in my new windows- the new kitchen box window absolutely transformed that room. Great attention was paid to insulate and seal everything inside and out. They also customized my back window screen to allow for the cat door. These guys are great!!"

Sara P. Baldwin in Lake Bluff, IL

2018-10-15

5★★★★★ - "They set up appointments and are always there on time. I had a picture window and two double-hung windows installed to replace the old ones. The workmen work was done in about 3 hours and the installers were very professional and polite. I've now ordered two more windows from them because of their professionalism and price. All debris was also removed at the completion of the job."

Richard R., Window Installation in Waukegan, IL

2018-10-11

5★★★★★ - "All aspects were delivered exactly as promised. Very pleasant people to work with. 1st Class operation."

Miles N., Window Installation in Grayslake, IL

2018-10-11

5★★★★★ - "The owner Garry Gillis stop by my house 2 times and explained everything to me and gave me the estimate. I had additional questions and sent him an email, he responded within an hour. The same day the work was done he called me to ask if I were satisfied. The installer - Pat Anderson is great and did a fantastic job. No cutting corners and temporary fixes. They give a lifetime guarantee."

Tamara R, Window Installation in Mount Prospect, IL

2018-10-11

5★★★★★ - "Responses from everyone at the company were immediate. Everyone I had an appointment with, showed up on time. Windows were ready when promised. Work was completed when promised. (Everything went according to plan)"

Bill L., Window Installation in Gurnee, IL

2018-09-11

5★★★★★ - "Very happy with the look of new Windows. Job well done!!!"

Rex L., Window Installation in Northbrook, IL

2018-09-11

5★★★★★ - "Very happy with the new warmth these windows have provided my home. The management and workmen were very courteous."

Karen K., Window Installation in Gurnee, IL

2018-09-11

5★★★★★ - "Gary came to our house and demonstrated a few of the windows that we had in mind and explained the various pros and cons. He then let us make up our mind. No pressure. Pat and his crew installed the windows with care and professionalism. Cleaned up after themselves and treated my house and my wife and me with respect. He answered my questions promptly and truthfully. The whole crew treated our little dogs great. It was an enjoyable experience."

John H., Window Installation in Glenview, IL

2018-09-11

5★★★★★ - "Even though we have decided to do the installation ourselves and are only purchasing the windows from them, he was very professional and knew what we were looking for. If gas prices and personal considerations hadn't come into play, I would not have hesitated in hiring them for the installation."

Homeowner, Window Installation in Arlington Heights, IL

2018-09-11
---
Call for FREE Door Replacement Quote
---